In 1963 this group of students stood in the brand new gymnasium of their rural school and smiled for a photographer and for posterity. That year, enrolment at the Webb School was fifty-seven students and two teachers. If you're from the Stouffville/Uxbridge area, you will recognize some of the family names in this class!
When the school was decommissioned in 1980, it was rezoned as a rural dwelling and for the next 35 years owners tried to make the building their own. It went through major growing pains and wasn't always loved and I will admit (having grown up down the road from the schoolhouse), it was a scary and tired building on our long stretch of country road.
Mission #1: Own the Schoolhouse
When the schoolhouse went up for sale in the fall of 2016, the gymnasium wasn't even shown in the listing and I understand why! It was a mess. It was taking in water, the flat roof was leaking, the electrical was a colossal hazard - the gym needed complete gutting and it likely scared a few people away!! But as soon as we saw it, we were in love and within days, the battered old gem was OURS! Then the REAL work began!
Mission #2: Show me what you're working with!
In an old building, you really need to know what you're working with - for better or for worse. So, we started by hiring the experts to peal away the layers. Ryan Pickering and his crew at Custom & Quality came in and expertly uncovered the gym and other parts of the schoolhouse! They were brave, very, very brave!
Mission #3: Let the energy flow!
With no more layers and the power cut, the gymnasium went into a period of dormancy. Like every deep transformation, we had to deal with the deeper issues that we often would prefer to ignore. Our schoolhouse needed a new flat roof to stop the water dripping into the master bedroom above and the studio below and the doorway needed serious structural love. So we got a crew up on the roof and called Kevin Rainbow & Jeremy Brown from Rock Solid Services to give the studio entranceway an overhaul. They worked all hours with no power and all heart!
Then it was time to let it settle into it's new self - fresh, unencombered and ready to be something special!
Mission #4: Listen & Leap
Despite the state of the gymnasium, clients who came to the studio were often eager to check out our future studio and were divinely positive and encouraging. It was hard at first, but as I listened, I realized that the space was picking up momentum. Even in it's state, I began to use the space with my adventurous clients.
Musical Conductor, John Kraus was open and kind...
Industrial Trainer, Marley Hurtado was enthusiastic and encouraging...
...and dozens of friends and family visited to help us build the momentum to take the next step. It was time to get serious.
Mission #5: Let there be Light
Electrifying the studio was a project that could only go to a team of passionate electricians, because an old building like this has lots of secrets and demands creativity. We called Karl at KHB Electric Inc. and they knocked it out of the park!
The day after they were done, Becky Morrissey from One Step Ahead came in to help me organize, sort, clean and turn a construction site into a working studio space. (She's a machine and a magician!) Just in time for the bright and electric energy of actor, Keegan Comar who loved the industrial vibe!
Mission #5: Decide and it is Yours
The studio project has been evolving alongside a number of other projects here at the schoolhouse so while we have the pros working some jobs, we have been knee deep in the rest ourselves. But one day we decided, without being fully prepared and without having worked out many of the kinks, to launch a workshop series and open up the studio - WHY NOT!!? We knew that if we put our heads down and focused on the vision that we'd get there. It was time to get our hands dirty and we were happy to do it! A month until opening. Here we go!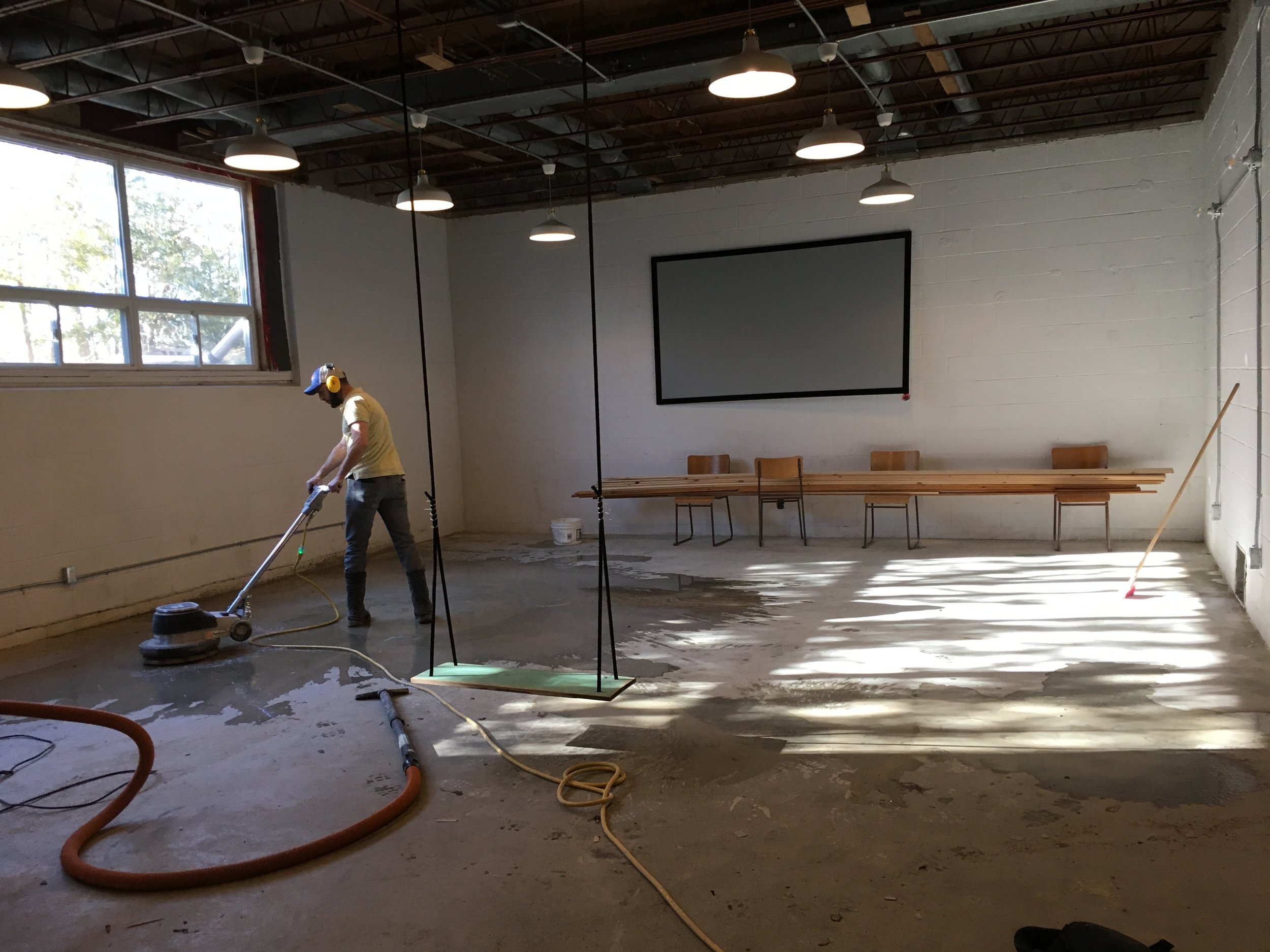 Floors, walls, electrical, plumbing, carpentry - there was nothing we didn't do in the four weeks leading up to the opening of the first workshop!
Mission #6: Know when to Stop
Because he doesn't read my blog I don't mind saying that my husband is an angel and my creative soul mate! He thought it wise to get me away for a few days of rest after the feat that we had managed to pulled off. 2 days until opening. Breath deep mama. All is well.
Mission #7: Enjoy every Minute!
Yesterday we opened for our first workshop which, for me, was a dream come true! From the day we first moved in, I have felt the ring from every corner of the building to give it love, with the promise that it would give back ten-fold. It has already done that. I'm about as happy as I can be in a creative space I get to share with energized people like this, who bring me joy and challenge and creative blocks that we happily help to bust through, so that the artful energy can flow as it should!
Welcome to the NEW Dukát Studios! It's UP, UP, UP baby!
Won't you join us?
Forever yours in love and light,
Angela